Everyone should be able to step out with confidence
Whether presenting to a client, or picking up the kids, you should feel fabulous from top to toe
Standing in court, playing golf or tennis, walking down the aisle or dancing all night your feet should support you in everything you do
Every woman should be able to choose to wear high heels
Whether presenting to a client, or picking up the kids, you should feel fabulous from top to toe
Everyone should be able to step out with confidence
Standing in court, playing golf or tennis, walking down the aisle or dancing all night your feet should support you in everything you do
Every woman should be able to choose to wear high heels
Non-Surgical Procedures
Steroid
Hyaluronic
ESWT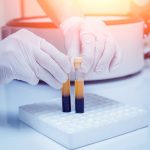 Cartilage
Regeneration
PRP
BMAC
Lipogems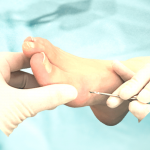 Minimally Invasive Surgery
Hammer Toe
Bunions
Cheilectomy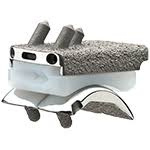 Joint Replacement
Cartiva
Hemicap
Infinity
Common Conditions Treated
ChondroGuide
Bilayer collagen matrix for cartilage regeneration
Lipogems
Micro-fragmented tissues providing scaffold, cells, and the growth factors
InternalBrace
The InternalBrace™ ligament augmentation provides stability similar to wearing a seat belt for support.
Total Ankle Replacement
Infinity with Prophecy preoperative navigation guides to improve reduce theatre time and improve outcomes
Over 10 years of experience of treating patients with Foot and Ankle problems
Over 3000 operations performed, from bunion surgery to total ankle replacement
5 clinics across Scotland 2 clinics in Harley Street
Bunion
A bump on the side of the big toe. Can cause swelling, redness, and difficulty with shoes.
May cause pain.
Big Toe Arthritis
Wear and tear of big toe joint cartilage can cause stiffness, pain, difficulty running,
or unable to wear heels.
Toes & Forefoot
Dull or shooting pain in the ball of the foot. Morton's Neuroma. Bent, stiff, curly or hammer toes. Corns & callus.
Heal Pain

Burning, painful heel. First thing in the morning or after prolonged standing.
Achilles Tendon Problems
It can swell, be painful - tendinopathy or can injure and rupture.
Ankle Injuries & Arthritis
Ankle Sprain
Ankle Instability
Osteochondral Lesions of Talus
Dear Miss Miller. Thank-you for giving me my life back. Miss Miller, you're the best surgeon anyone could ask for and I'm so glad you were mine.
Dear Miss Miller. Words would never be able to express the difference you have made to my life. Thank-you so much for the care you have shown me throughout my recovery.
Thank-you Dr Ros Miller. The operation was a huge success and I have had no problems with the Ankle since. Absolutely fantastic.
Foot Health
When the weather is cold it is usually due to slipping on snow or black ice. The early morning dew can cause problems in Spring, and the wet leaves of Autumn can cause you to fall.
Read More »
or fill in the form below to find out more or book an appointment
We work with all the major Insurance Companies as one of their Preferred Providers.
We are 'Fee Assured' to ensure you have peace of mind regarding cost.